Dear readers!
Over the past few years there has been a change of the generations in our domestic castles and gardens which has contributed towards the creation of many new attractive offerings for interested visitors. Outings, garden parties, concerts, exhibitions, culinary and cultural events can nowadays be found in such a gratifyingly large number that you as a visitor will always find something that suits you.
The subject of gardens and healthy food from sustainable production is enjoying particularly great interest. In this area our castles and gardens have plenty to offer: lovingly designed castle shops carry wild game specialities from domestic forests, marmalades, fruit, firewood as well as a considerable number of good wines. Today castles and gardens are no longer difficult to access bastions offering heavy cultural fare but are frequently worlds in themselves that allow us to rediscover garden and dining culture.
In this completely revised and updated edition of Schencks Castles & Gardens we once again offer you hundreds of tips for your excursions, events and overnight stays. In addition to the printed version of Schencks Castles & Gardens I always recommend that you take a look at our website www.schencksreiseführer.de as well, which provides you with up to date information and attractive special offers.
I hope you enjoy your visits!
Yours,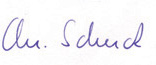 Christoph Freiherr Schenck zu Schweinsberg
Publisher and Editor-in-Chief